New public newsletter
The Las Cruces Academy public newsletter of 1 June 2021
Welcome again to the news of our thriving students and teachers! We've been really busy and productive; we relate a lot of news here.
We ended another great academic year. Our second-to-last day was a field day of athletic contests in the sun for students in grades 3-8 and games for younger students, interspersed with a cultural, historic, biological, and scenic tour of Madagascar provided by Vince and Lou Ellen. Our last day was a community picnic – students, parents, teachers – in Mesilla on May 26th. Everyone enjoyed a mild, sunny day. We all wore masks. Even with the relaxed CODID-19 restrictions we took care, given that our young students are not yet vaccinated. This didn't slow anyone down.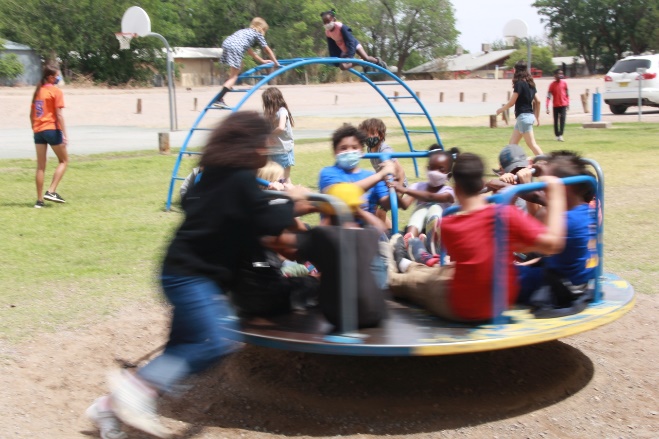 Our students and their parents are happy. They gave us many enthusiastic testimonials. Here are a few:
"We are beyond grateful to you and all the staff at LCA for all that you do to create a magical, fun and safe environment for our kids…We are so proud of both girls and look forward to many more years of laughter and learning at LCA." – Kimberly
"We really appreciate all you do for the students & families of LCA. You're a wonderful school director, teacher, and friend. Have a restful summer! I can't wait to see you again in the fall." – Brigit
"Thank you so much for being an awesome science and cursive teacher! [Lou Ellen] I really enjoyed learning about atoms! (And everything else). I will miss you this summer! Thank you for making LCA. It's the best school ever!" – Cailin
"We thank you all most sincerely for helping to bring the light back to our Jenna Joy! You and your school are most appreciated by us. Much love." – Kelly and Larry
"Dear Mr. Vince. You are a very good programmer and a nice person. Good luck." – oops, no name
Two of our students, Dov and Erika, completed 8th grade with us, receiving diplomas. That makes 5 graduates – we began with grades K-4 in 2009 and only reached 8th grade students in 2018. We're pleased to note that we're recruiting a number of students in the upper grades these years.
Iowa tests: We started one-shot standardized tests in 2018, with students taking the national iowa Assessments then and again in 2019 and this year (the pandemic had us skip 2020). Students take the tests in the mornings of 2 to 4 days, depending on individual speed. We do not teach to the test. We do not teach to a standardized curriculum – our teachers have academic freedom to develop their own teaching, and we all fly high with it. No tuning, that is, and our students do very well. On average they hit the 86th percentile nationally as individuals and the 96th percentile as a whole school.
Vignettes of our academic program:
Of course, we finished classes in person, for all students. Almost all students were with us in person from mid-September onward, thanks to our large floor area and much diligent work by teachers and staff to verify everyone's temperature before entry, keep social distancing, sanitize surfaces, keep class mixing minimal, have appropriate desks and barriers. Our LCA families were very conscientious, self-quarantining when in any doubt. We had only one COVID case, for a teacher over a break.
Our newsletters to parents read like the students are grades higher than their age would say…. and they are, with the Iowa tests indicating that they average 1.7 grade levels above national standards. Students explore advanced topics in all subjects. Third-graders and even kindergarteners are writing haiku poetry. Students in social studies have spirited discussions about history and politics. Science students do elaborate and sometimes flashy experiments (check out our webpage). First- and second-graders learned economics hands-on, setting up stores. Younger students in computer programming made elaborate projects in Scratch; older students in grades 6-8 (with one 4th-grader) wrote a lot of code in the Python language favored by many developers. Chinese and Spanish classes are rolling along very well.
Teacher Elizabeth Brasher kept two extracurricular clubs going, even with pandemic restrictions. The engineering club members worked on their own and via Zoom, doing diverse projects with Legos. The theater club wrote scripts and practiced delivering lines.
Teacher Kelly Lin has just moved on to California with her husband, a newly minted physician. We'll miss her ever cheerful presence. Arielle Lane is coming back in a welcome move. Planning classes will be very interesting for the coming yearl
Vince is keeping up one of our main outreach efforts with his podcasts on our NPR station. Episode 139 just got uploaded last week. You can catch up at krwg.org/programs/science-digest. He also finished two Web presences on our lcaoutreach.org site, one about habitability of planets and the other about 44 years and 41 countries of travel.
We're looking forward this coming August to welcoming our students who are so diverse in origins, interests, and talents.
Our big step academically and organizationally is our pursuit of accreditation. While our students are doing very well independently of our accreditation status, we see several benefits to it. One is simply cachet with prospective enrollees. Another is verifying for ourselves that we are doing everything right. Yet another may be lower insurance policy costs. It is an undertaking of note, in the time it takes for all the documentation and the associated costs, which we estimate as $27K. We chose the toughest accrediting agency for that purpose, the Independent Schools Association of the Southwest. We've taken steps to reorganize our Board; our teachers are all detailing our curriculum on
special pay over the summer; we're exhaustively documenting our policies for students, teachers, parents, the Board, our finances, our legal framework, and, well, all of what we do.
Financially we're on a very positive side, and that's encouraging. We are planning to buy our building on a lease-purchase agreement. We're looking at growth in enrollment and a capital campaign to support this. We had our best ever year in our Annual Fund, exceeding our goal by $9K. Every bit over helps to shorten the time we can have a permanent home. We just finished spending out a grant from the Giles W. and Elise G. Mead Foundation that supported our Chinese program, the purchase of 15 Chromebook computers, and technology for distance education that we had to do for a short time and for some families.